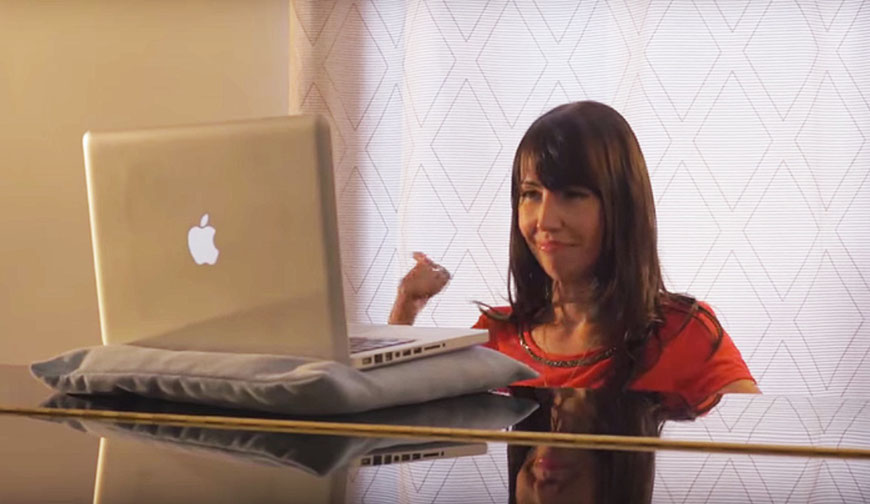 ONLINE SINGING LESSONS: HOW DOES IT WORK, WHAT ARE THE
ADVANTAGES AND DISADVANTAGES?
As we all know, online singing lessons / vocal coaching have been around for some time and are not an "invention" of the last 18 months.
Nevertheless, this form of coaching has reached a whole new dimension and a new status in the last year and a half.
Despite the changed living conditions, the internet offers great opportunities to continue your education and to stay creative. I will keep some of these options even if face-to-face teaching is possible again.
ONLINE SINGING LESSONS: THE SAME QUALITY AS FACE-TO-FACE?
Before I talk about these options, I would like to talk about the quality and handling of online singing lessons / vocal coaching.
Anyone who has never tried online lessons might be a little bit skeptical. 
I started teaching online a few years ago and before that I was a bit skeptical, too. You are no longer in the same room as the students, you hear them through a "technical device", so to speak, and I was a bit worried whether I could deliver the same quality of coaching, as usual. The answer is: YES, ABSOLUTELY!
It's all actually a matter of getting used to it. Your hearing gets used to the new listening situation very quickly (of course I always work with headphones) and after a few online lessons you hardly notice that you are not in the same room as the students.
When I switched from a smaller to a larger coaching studio with very high ceilings three years ago, I also thought at first that the reverb was so powerful that I might not be able to hear my students in such detail anymore. But I was absolutely wrong! That wasn't a problem at all and after two or three hours I felt like I had never taught anywhere else. As I said, it's all a matter of getting used to it!
WHAT ARE THE DISADVANTAGES OF ONLINE SINGING LESSONS?
Of course there can be network problems with online coaching, but you can usually solve them very quickly. E.g. you can also switch to other apps such as Whatsapp or Facetime. That always worked for me. Of course, a serious technical fault can always occur, but it is an absolute exception and, to be honest, has never happened to me. Moreover, everyone has a good internet connection nowadays and I never had to stop a coaching session completeley, until now.
Some students have the opportunity to do the coaching with their own microphone. Of course this is a great "luxury variant" which I really appreciate, because you can hear the voices really clearly and in great detail, but basically the microphones of your laptop, mobile phone or tablet are completely sufficient!
HOW DOES AN ONLINE SINGING LESSON WORK?
From a "practical" point of view, there are of course a few small technical changes to be considered in online singing lessons. In terms of content,my lessons have not changed at all. Warm-up singing exercises / technique exercises are possible in the same way as with face-to-face lessons. I usually accompany all exercises on the piano. With online coaching, however, it is advisable to only play the exercise briefly and then let the students sing the exercise segment a cappella alone, as singing and playing at the same time (on two different "levels") can lead to interference and might affect the overall hearing quality.
The advantage of this is that my students can develop an even better awareness of their intonation and timing!
When working on a song, it is best if the student has a small sound system / speaker (e.g. a bluetooth speaker) on "his side" with which he can play the playbacks / karaoke. Accompanying on the piano while the student is singing is, as I said, rather difficult and not advisable in an online situation.
THE BENEFITS OF ONLINE SINGING LESSONS I WILL KEEP "FOREVER" NOW!!
Singing lessons can only take place if everyone in the room (both student and coach) is healthy and free from colds, runny nose, flu symptoms, etc., that goes without saying. For vocal professionals, a common cold can be a disaster. Performances, recording sessions, concerts etc. are at stake. So it is absolutely important, especially in these days, to always show consideration for those around you.
Of course, it is also absolutely advisable not to take singing lessons if you have a cold or ailing, but in case of doubt (or if you have no symptoms and still have to stay at home) you can still take the singing lesson online and the lessons are not lost!
Here another great advantage of online coaching: if a student is temporarily in another location, or even moves to another city (or country), it is still possible to continue the singing lessons!
Then the students don't have to find a new singing teacher either, which is always a big task (and sometimes a real challenge!).
In modern times, online coaching has become indispensable and a wonderful, essential tool for me. It has opened up great new opportunities for me and my students, which allow us to be flexible, which is so important nowadays, and, even with changed living conditions, to keep working on our wonderful instrument (the voice !!) and our creativity! 
YOU`'D LIKE TO IMPROVE YOUR SINGING VOICE AND BOOK A LESSON WITH ME?
Non-binding inquiries via email or phone:
coach@silviavicinelli.com   Phone: +49 (0)221-70219895
More information about me and my teaching method here on my webiste.